What is a Distribution Box?
A distribution box (or "D-Box" or "junction box") is a concrete or plastic box that evenly splits the flow of effluent between absorption trenches.  All distribution boxes have one inlet and multiple outlets. The inlet and outlets are designed for 4″ diameter pipes.
The picture of the D-box to the right is made of concrete.  The lid is shown above the box.  Many of today's distribution boxes are made of black plastic.
Ideally, the distribution box is installed perfectly level and on undisturbed ground.  Being level keeps all the pipes inside the D-box at the same elevation promoting equal distribution of waste water to the trenches.  The inlet pipe is typically 1″ higher than the outlets.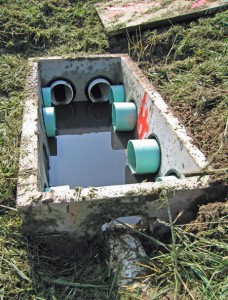 What is wrong with this D-box set-up?
The inlet pipe (lower part of the picture) was never properly connected to the D-box (see gap above pipe).  In this case, the inlet pipe running up to the box is 3″ in diameter while the D-box inlet hole is 4″ diameter.  To properly configure this inlet, the excavator needed to get a reducer fitting (4″ to 3″) to get a good seal at the Box inlet.  Also, the inlet flow also must be baffled so that the flow does not favor one or more outlets.  This is usually done with a tee or vented 90 degree elbow.
More about Meade Septic Design Inc.  Design Services
View Meade Septic Design, Inc. Commercial Clients and Projects
Got septic system questions?  Email me or ask them at the Forum!