For over 22 years, I've enjoyed positive working relationships with clients and Health Departments in 30 counties in Indiana.   Excavators value my designs because it makes their jobs easier.  They bid the project with confidence knowing that the system can be installed according to the design and homeowners benefit from having all installers bid off the same plan.
An accurate and easy-to-follow design coupled with high standards of customer service have been key to Meade Septic Design's success.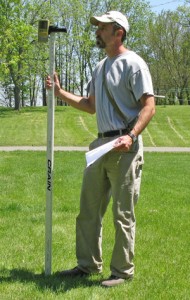 A good septic design must be:
Accurate:
I personally visit every job site and take all necessary measurements and elevations. I then produce a high quality plan with the help of  AutoCAD and sophisticated spreadsheets.
Easy to understand:
Excavators seek out my designs because I have incorporated their suggestions into my work.
A Value:
My designs include all necessary information — with a focus on what's most important.
A carefully thought-out design can considerably lower your installation costs.   This is especially true with commercial systems.  I call this Price Conscious Design™
Unlike some others, the price I quote you is the price you pay.  I will never say I need additional money (unless the system requirements drastically change mid-stream).
To insure I'm making all the right deign choices, I pretend every system I design is my own.
Septic Inspection:
I offer septic system inspection.   Contact me if you are buying or selling a house or business.
Read more about my inspection services HERE.
Secondary Treatment:
My other company Meade Septic Supply LLC is Indiana, Michigan and Ohio's  Aero-Tech aerobic treatment unit (ATU) distributor. Aero-Tech ATUs clean your wastewater to a high degree before it goes into your absorption field.  This cleaned water will not support a bio-mat, the cause of most septic system failures.  I was a huge fan of these ATUs years before they asked me to become their distributor.  If you are even remotely considering a secondary treatment device, give me a call.
If you diligently compare, treatment levels, warranties, amount of maintenance required,  quality of construction and overall costs,  you will pick Aero-Tech every time.